Monaco - August 19, 2022 —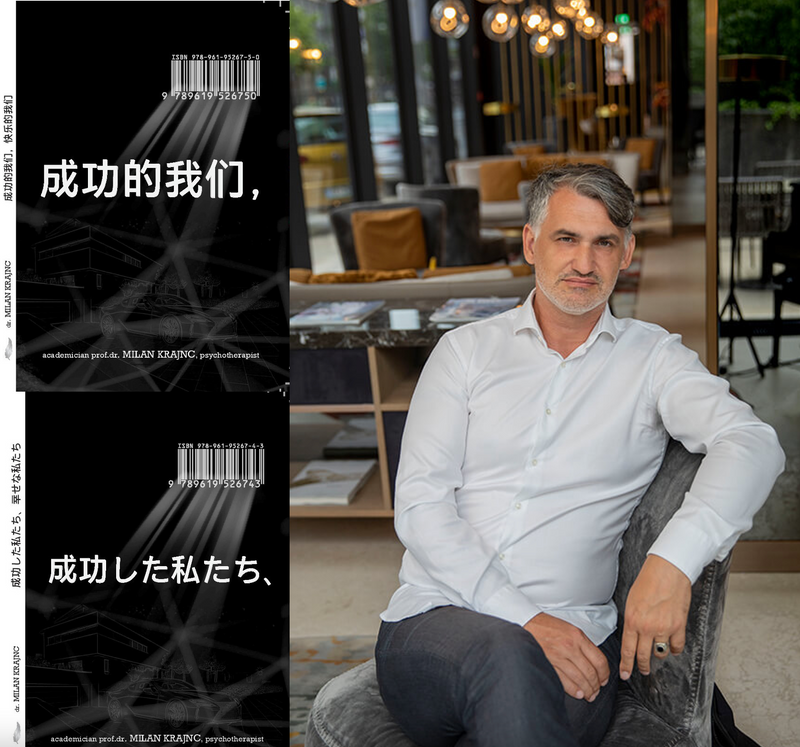 Prof. dr. Milan Krajnc is nominated for the Nobel Prize in Economics 2021 He founded the new scientific science Dynamilogy, which unlocked the secrets of nature and from this created the Dynamic Leadership Model stimulating the people needs.
With the development of primary human needs and feelings, the global economy changes: Economy is based on consumption needs. Dynamic Leadership Model, structures each process precisely, combining the laws of physics, and psychology and implementing into the economics of needs.
 Krajnc is a full professor of Public Management at the European Center for Peace and Development, the University of Peace established by the United Nations as a Professor of Economic Sciences and representative of Al-Khalifa Business School in the Principality of Monaco.
"People are the most difficult obstacles to reorganization. Why? They are accustomed to working in a stable manner, which reorganization prevents because they must approach tasks differently. Also prevents one from falling into fixed patterns and encourages one to constantly consider progress. It is critical that the entire team participates in the reorganization because this is the quickest way to complete it. Reorganization should be done gradually!  Changing everything at once would be a recipe for confusion, if not chaos".
For decades, he has been running a private practice in the field of psychotherapy. He has been solving crises in companies and family businesses for 20 years. He has written hundreds of books  and scientific articles in leadership and relationships. The work entitled "Dynamic Leadership Model" has already been translated into 11 languages and is still being translated to many others.
Dr. Milan Krajnc is the expert on your personal and business success solving problems caused by different personalities in companies, municipalities, and countries. He provides services on Premium personal consulting, Advanced consulting services for companies, Advanced services for family businesses, Advanced consulting services for public institutions, Advanced Team Building Program, Advanced program for awakening consciousness, etc.
He considers our life as an eagle philosophy. The eagle has the longest lifespan among birds, living up to 70 years. But to live that long, he must get rid of all the "burdens" that hinder him at the age of forty. 
Always few unpleasant changes happen: Long and sharp beak bends. Eagle long and flexible claws become unusable for hunting. With them, he can no longer easily catch the prey he feeds on. Old and heavy wings with thick feathers get stuck during flight. The jamming of old and heavy wings makes it increasingly impossible to fly and hunt. So, he is left with two options: to die or to embark on a painful process of change, a real transformation that lasts a full 150 days.
Change process begins at the top of the mountain, where the eagle flies and pecks at the stone until part of its beak crushes away. Then he waits for his new beak to grow. It clings to old and inflexible claws with it. When new ones grow, it plucks the old heavy feathers with them. 
The described transformation takes five months! And then in the summer again in the year of the young, resilient, strong eagle it lives another 30 years.
Everything about personal transformation you can find it on his collection on Amazon! This book translated to several languages is Success we, Happy We!
Presents a creative perspective on issues, particularly in business and family. An organization can't be a method for achieving material and individual objectives. It is important for society and for nature. We ought to continuously remember that how we act and put resources into the organization is the preciseness exact thing we will return from it.
When this mental complex of theirs acquired the important affirmation, their self-awareness stopped. For that reason, they got lost on their way. Despite the assistance of different specialists, they were all the while meandering around their captivated circle because of an exceptionally basic explanation: they were as yet moored in their experience growing up. Their life can measure up to a moored boat that is passed on to the benevolence of the breeze and the ocean flows with its way restricted to the length of the anchor rope. The reason for secures is to attach. Life, notwithstanding, is a stream that streams. To that end, we want to raise each of the anchors to forestall placing ourselves into an enclosure. 
To all the readers there is a promotion of Personal Breakthrough 1 hour (150 € voucher). Now you can give yourself or a loved one the strongest gift: the opportunity for a complete personal transformation. By purchasing one voucher you give 1 hour of professional counselling and experienced management from renowned expert Milan Krajnc.
Contact Info:
Name: Dr. Milan Krajnc
Email: Send Email
Organization: Dr. Milan Krajnc
Address: Le Forum, 28 Boulevard Princesse Charlotte, 98000 Monaco
Phone: +377 678 63 69 66
Website: https://www.milankrajnc.com/

Release ID: 89080415
If you detect any issues, problems, or errors in this press release content, kindly contact error@releasecontact.com to notify us. We will respond and rectify the situation in the next 8 hours.