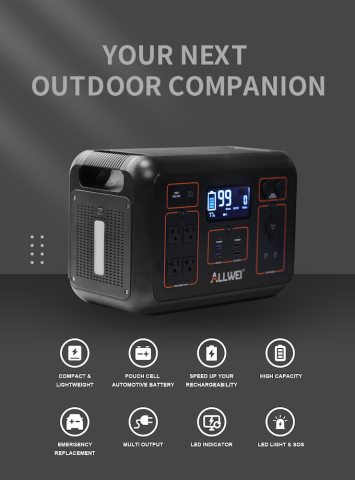 Allwei, a Hongkong-based hardware manufacturer specializing in cutting-edge portable clean power solutions, is introducing its 2000 Pro Portable Power station for Power Backup.
A portable power station is an essential piece of equipment to keep devices like medical equipment, radios, appliances, and smartphones charged and running during emergencies. Portable power stations like Allwei's 2000 Pro Portable Power station have an advantage over traditional generators because they don't require gasoline, kerosene, or propane to run. This saves one money and time spent on engine maintenance and makes battery backups much safer to use indoors.
Power stations are thriving at the moment. The Asia Pacific is expected to dominate the global portable power station market between 2020 and 2030 due to rising investments and advancements in the region's renewable energy sector. Allwei is set to lead this growth with its impeccable 2000 Pro Portable Power station.
The Allwei portable power station provides 2264Wh and 2200W Max of stable, sufficient energy. It's perfect for camping, traveling, or using electricity at home because it has been designed to power all the appliances or devices at any time. More importantly, it doesn't have any fussy operating requirements.
Allwei is on a mission to introduce its invention on the largest possible scale to improve the standards of life and develop technology, which is the foundation of present-day civilization. Allwei believes that technology not only changes people's daily lives but also changes man's reality and influences how the future of humanity unfolds. This is why the company went all out to create what has been described as the most versatile Portable Power station in the world!
Creativity is thinking up new things; innovation is doing new things. Allwei is replete with both creativity and innovation. The Allwei 2000 Pro Portable Power station is equipped with the BMS safety management system. This system protects the battery from operating outside its safe operating parameters by constantly monitoring its condition, calculating secondary data, reporting the data, and controlling the battery's environment.
Additionally, the 2000 Pro Portable Power station has a built-in MPPT solar charging controller and up to 99% conversion efficiency. Each MTTP charging circuit supports two solar panels to be used in series and can support up to four solar panels to charge the power supply at the same time, realizing fast and intelligent charging.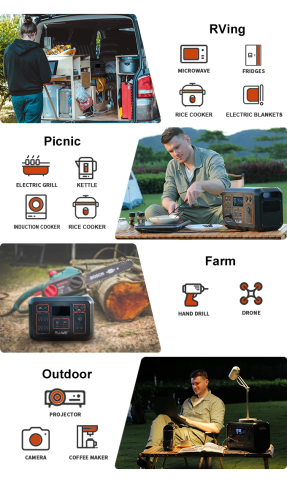 Speaking about the portable power station, an executive of Allwei said: "No matter what the original intent of our design was,  safety is what we care about most. Therefore, we chose safer and more batteries. Our power station adopts pouch cells and automotive batteries, which have a high energy density, lightweight, and high safety factors."
Allwei's services is predicated on the business principles and core beliefs of professionalism, industry knowledge, and flexibility. In its commitment to excelling as a one-stop destination in the hardware manufacturing industry, the company has undergone some positive changes over the past few months.
These positive changes include the company's insistence on strict quality control and thoughtful customer service, which has seen the company obtain the ISO9001 certification system, and 5S System Management that provides the company with a clean, ordered, and joyful working environment. "We have professional design and adequate productivity, which make it possible for us to provide high-quality and competitive products, all of our models with our own patent certificates," said the CEO of Allwei.
To have an in-depth look at the Allwei 2000 Pro Portable Power station for Power Backup, check out the company's page on Kickstarter.
Media Contact
Company Name: All Wei
Contact Person: Jayne
Email: Send Email
Country: China
Website: https://www.allweishop.com/