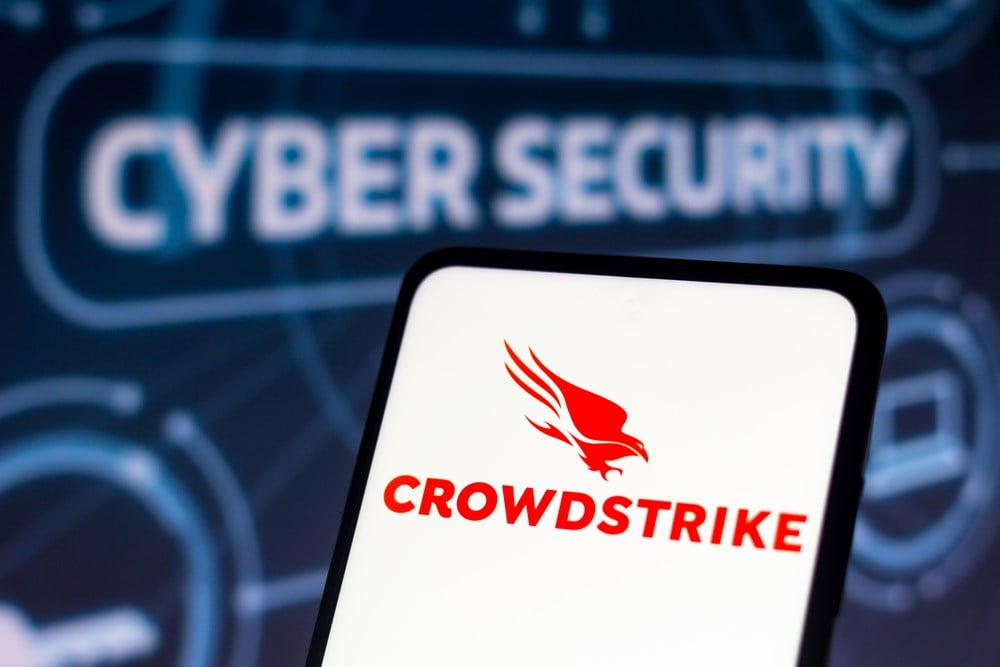 CrowdStrike Holdings Inc. (NASDAQ: CRWD) is within striking distance of the stock's best levels since November. 
Is the stock ready to stage a new rally after lagging the S&P 500 tech sector on a one-month and three-month basis, and is CrowdStrike's uptick a good omen for other cybersecurity stocks? 
CrowdStrike gapped up 9.28% on August 31 in four times the average turnover after reporting better-than-expected quarterly results.
Earnings of 74 cents a share far exceeded views of 56 cents a share. That was a year-over-year gain of 106%. Revenue increased by 37% to $731.6 million, ahead of expectations for $724 million. 
CrowdStrike stock had a spectacular run in 2020 and 2021 but then, like other techs, wiped out a good portion of those gains in 2022.
Bouncing Back In 2023
This year, CrowdStrike shares are up 53.13%. 
CrowdStrike went public in 2019, just in time to participate in the big pandemic-rea work-from-home-and-shop-from-home tech rally. It specializes in endpoint security and threat intelligence. Endpoint security safeguards devices from cybersecurity threats like malware and data breaches.
Its core product, the Falcon platform, offers wide protection against cyber threats and attacks. 
Naturally, AI and machine learning are key components of CrowdStrike's technology.  
It's fair to use the Technology Select Sector SPDR Fund (NYSEARCA: XLK) as a point of comparison. CrowdStrike, with a market capitalization of $38.23 billion, is big enough for S&P 500 membership, but with so many other big techs, there's a waiting line. 
Cybersecurity Industry Lags Tech Sector
While CrowdStrike's performance has underperformed the sector recently, that's likely due to the cybersecurity industry, as a whole, lagging the tech sector in the past month.
For example, index components Palo Alto Networks Inc. (NASDAQ: PANW) and Fortinet Inc. (NASDAQ: FTNT) both traded to the downside in the past month, while the broader sector ETF posted a gain of 2.94%.
However, both stocks have traded to the upside in the past two weeks and appear to have found the bottom of their current consolidations. 
Investors haven't been exactly sure how to value cybersecurity stocks in recent months. For a time, there was concern that companies would slash cybersecurity spending as a belt-tightening measure in an uncertain economy. 
There's been some justification for that view: Take a look at MarketBeat's Fortinet earnings data. The company narrowly missed revenue views and issued disappointing full-year revenue guidance, resulting in a 25% gap down in monster trading volume.
Double-Digit Earnings Growth Ahead
However, analysts still expect Fortinet's earnings to grow by 29% this year and another 20% next year, so it's not as if the company is crumbling. 
There's more good news for the wider industry: In July, the Securities and Exchange Commission implemented a new rule requiring public companies to disclose material cybersecurity incidents within four business days. The intent is for companies to reveal the nature and scope of a cyber breach in a timely fashion so investors can understand the impact on the business.  
That doesn't sound like an opportunity to cut costs by slashing cybersecurity spending. 
It's not just the big guns that are benefiting. 
Smaller Industry Peer Crushes Revenue Views
Okta Inc. (NASDAQ: OKTA), with a market capitalization just shy of $14 billion, gapped up 13.51% on August 31, after revenue grew by 23% to $556 million, cruising past the company's own guidance, as well as analysts' views. You can see those results on MarketBeat's Okta earnings page. 
Okta is a cloud identity and access management platform that secures access, manages identities, and enables users to have one login for multiple applications, a big convenience. 
A glimpse of the Okta chart shows the stock forming a cup-shaped base below a buy point of $91.50, reached on May 31. 
Analysts expect Okta to earn $1.15 a share this year, a strong turnaround after reporting losses in the past two years. Next year, earnings are expected to rise by 25% to $1.44 per share.