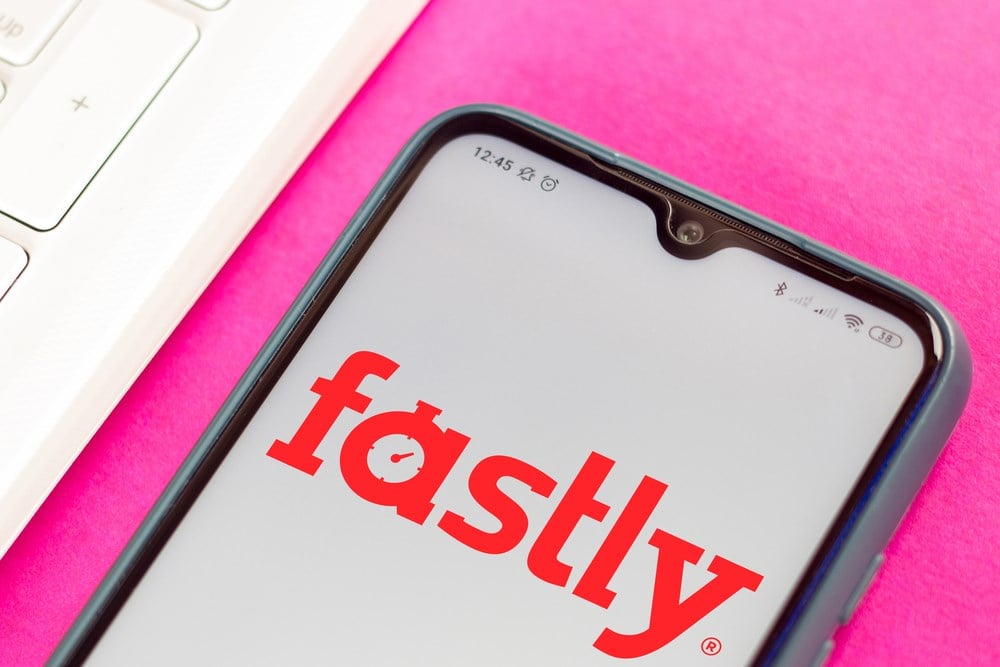 Edge cloud computing services Fastly, Inc. (NASDAQ: FSLY) shares have been rallying on optimism for its OHTTP relay and current pricing strategy. Fastly's core business is as a content delivery network (CDN). It enables the quick and secure delivery of content from images to streaming videos, music and text across its network. Its edge cloud platform lets customers with massive traffic and data have their content cache closer to end-users enabling quicker delivery.
Fastly stock has fallen from its pandemic high of $136.50 in October 2023, fueled by the loss of its TikTok contract. However, the business has normalized from the peaks as the company continues to grow its cloud customer base, with over 3,000 companies and 500 enterprise customers. The company competes with other CDN providers like Akamai Technologies Inc. (NASDAQ: AKAM), Cloudflare Inc. (NYSE: NET) and Oracle Corp. (NASDAQ: ORCL).
Notable Customers
The company provides cloud and CDN services to Netflix Inc. (NASDAQ: NFLX), Amazon.com Inc. (NASDAQ: AMZN), Spotify Technology SA (NASDAQ: SPOT) and Twitter. Fastly signed a game-changer contract with Alphabet Inc. (NASDAQ: GOOGL), owned by Google, for its Oblivious HTTP relay.
O HTTP Relay Game-changer
O HTTP relay is the kryptonite for third-party tracking cookies. It protects against IP address tracking and strips all identifying metadata before encrypting and forwarding the requests to the target server. The target server can't decrypt the request keeping all identifying metadata protected. OHTTP can be a valuable tool for advertisers targeting ads without compromising privacy and using third-party cookies.
Google FLEDGE Privacy Sandbox Deal
Fastly's OHTTP relay is a privacy-preserving technology that targets ads to users without revealing individual identities. Google will be eliminating third-party cookies in the second half of 2024. This is making advertisers very nervous. Third-party cookies are tiny files placed on your devices by advertisers to track your browsing history to build a profile to send you targeted ads.
Google plans to implement HTTP Relay FLEDGE Privacy Sandbox, which reduces cross-site and cross-app tracking. Fastly's OHTTP relay has been selected as part of the FLEDGE initiatives to protect user privacy and eliminate third-party cookies.
Google Senior Director of Product Management Victoria Wong commented, "Keeping users' data private and safe is critical to the future of online business. And with Fastly, we've achieved the best of both worlds, giving users robust privacy protections while continuing to deliver high-quality and personalized experiences." 
Fastly Vice President of Product, Infrastructure, and Networks Services Jana Iyengar commented, "Fastly strives to make the internet a better, safer place for every user – and the selection of our OHTTP Relay for FLEDGE is a testament to our platform's power and flexibility to do just that." Is Google also shooting itself in the foot with its FLEDGE Privacy Sandbox? That's another article coming.
Still Bleeding
On May 3, 2023, Fastly released its fiscal first-quarter fiscal 2023 results for the quarter ending March 2023. The Company reported an earnings-per-share (EPS) loss of ($0.09) excluding non-recurring items, versus consensus analyst estimates for a loss of ($0.10), beating estimates by $0.01. Revenues grew 14.8% year-over-year (YoY) to $117.56 million versus $116.16 million consensus analyst estimates. The trailing 12-month net retention rate fell to 116% from 119% in Q4 2022.
Flat Guidance
Fastly issued Q2 2023 EPS guidance of ($0.11) to ($0.09) versus ($0.08) consensus analyst estimates. Q2 2023 revenues are expected between $117 million to $120 million versus $118.71 million consensus analyst estimates. Fastly expects full-year 2023 EPS of ($0.27) to ($0.21) versus ($0.26). It expects full-year 2023 revenues between $495 million to $505 million versus $501.39 analyst estimates. 
Fastly analyst ratings and stock price targets are at MarketBeat.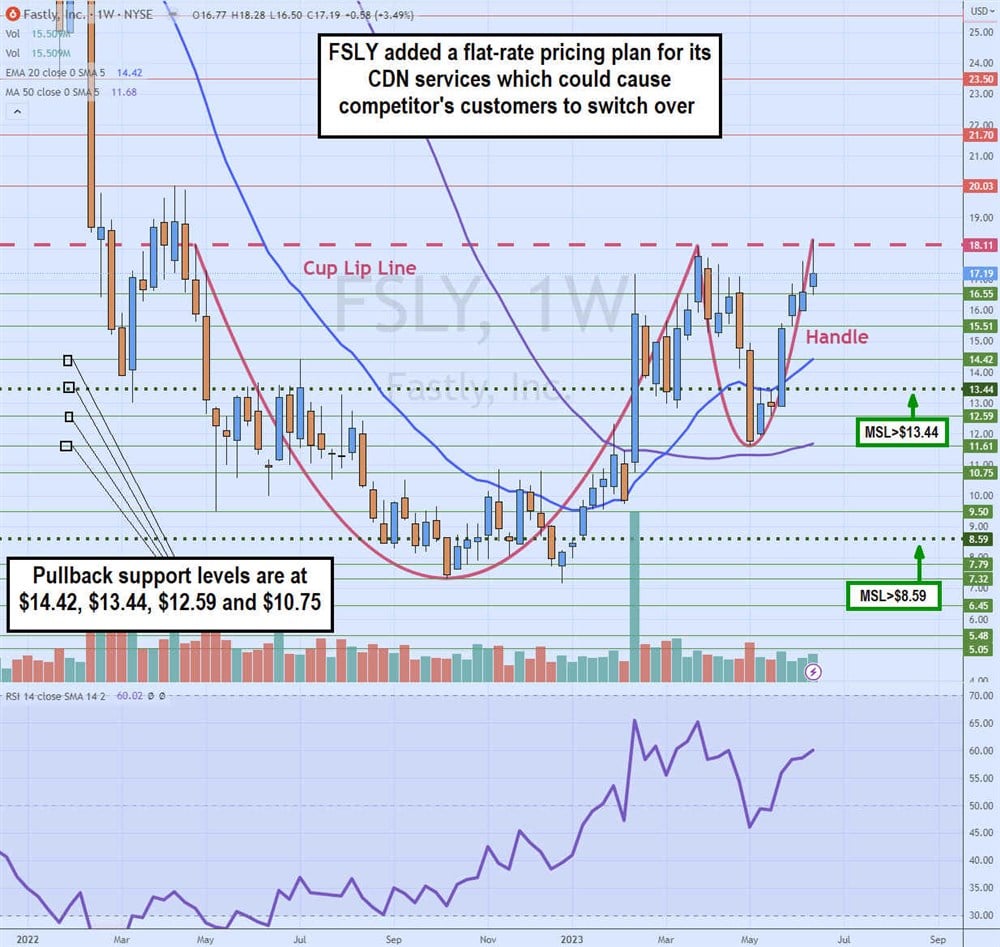 The definitive beginner's guide to reading stock charts can be found free on Marketbeat.
Weekly Cup and Handle
The weekly candlestick chart on FSLY shows a potential cup and handle breakout. The cup formed its lip line upon peaking at $18.11 in April 2022. Shares continued to trade lower until they hit a swing low of $7.32 in October 2022.
Shares attempted to bounce but kept rejecting off the $10.75 resistance level as shares retested the swing low in December 2022, making a new swing low of $7.15 before triggering a market structure low (MSL) breakout through $8.59. This caused shares to continue higher until it retested its $18.11 cup lip line in March 2023.
FSLY pulled back to $11.61, forming the handle low and triggering a second MSL breakout through $13.44, sending shares back up to the cup lip line and handle breakout at $18.11 again. Pullback support levels are $14.42, $13.44, $12.59 and $10.75.