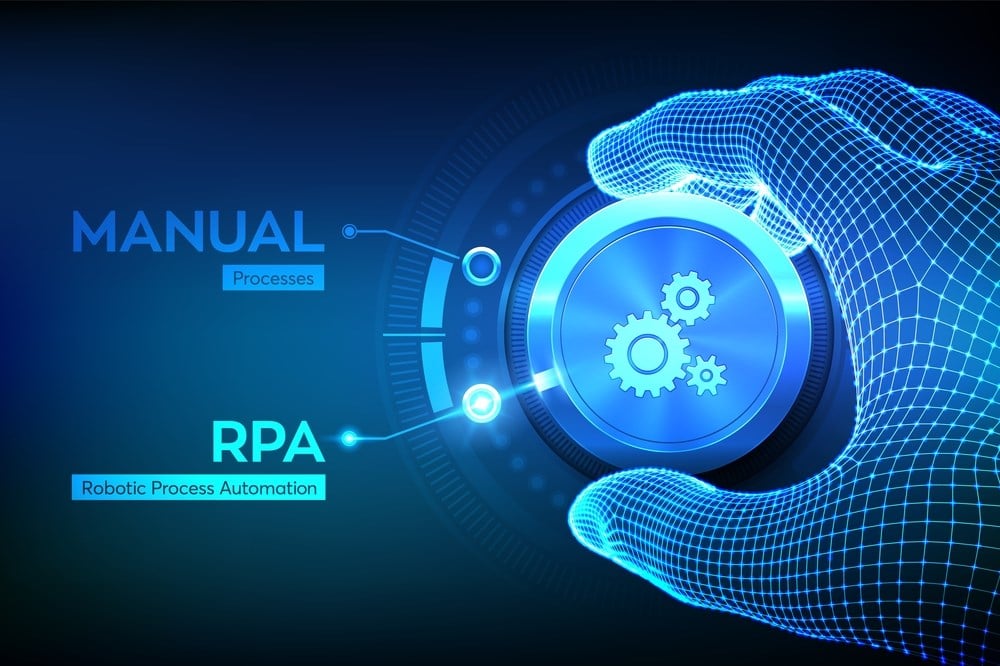 With the mainstream popularity of ChatGPT, artificial intelligence (AI) has been all the rage in 2023. The AI wars between Microsoft Co. (NASDAQ: MSFT) investment in ChatGPT parent OpenAI versus Alphabet Inc. (NASDAQ: GOOGL) Bard AI bot has resulted in significant stock volatility. C3.ai Inc. (NYSE: AI) stock has gained much attention, with its stock symbol perfectly describing its business. It's worth noting that only some AI companies are currently profitable. However, an AI company is making money and growing while still trading under $20 per share.
The Leader in AI-Powered RPA
UiPath inc. (NASDAQ: PATH) is the leader in robotic process automation (RPA) and business process automation (BPA). It was voted the leader in RPA Q1 2023 by Forrester Research. The platform enables software robots to automate repetitive, repeatable, rule-based tasks, freeing human workers to focus on more complex tasks. It incorporates AI into the platform to improve features like AI-based computer vision, which enables the robots to engage with on-screen elements accurately and intuitively. It also incorporates natural language processing (NLP) to optimize unstructured text and speech interaction.
RPA Solutions
AI Fabric is UiPath's platform that enables enterprises to deploy, manage and seamlessly integrate AI models into RPA workflows. UiPath enables companies to save time and money and better utilize their human workforce by having a digital workforce handle repeatable tasks. Its RPA automation capabilities are more adaptable and versatile due to incorporating AI into the platform. The platform comprises a three-step process of discovering tasks to automate, automating them, and scaling up. The company has introduced 10 Solution Accelerators to deploy in the healthcare, financial services, manufacturing, and the public sector.
UiPath BPA Use Cases
The company provided several use cases in the quarter. A medical billing company, BilledRight, deployed two Solutions Accelerators to automate data processing, saving over 40,000 hours annually. The Toronto-Dominion Bank (NYSE: TD) expanded UiPath automation to more business lines to improve productivity, efficiency, and customer experiences. Quest Diagnostic Inc. (NYSE: DGX) integrated UiPath's document understanding capabilities to assist in analyzing and processing millions of documents. 
Growing and Earnings Profits
On March 15, 2023, UiPath released its fiscal fourth quarter 2023 earnings report for the quarter ending in January 2023. The company saw earnings-per-share (EPS) of $0.15, excluding non-recurring items, versus consensus analyst estimates of $0.08, beating by $0.07. Revenues rose 6.5% year-over-year (YoY) to $308.5 million, beating analyst estimates for $278.69 million with an annual run rate (ARR) growing 30% YoY of $1.2 billion. Net new ARR was $93.8 million. Dollar-based retention was 123%.
Co-Founders and Co-CEOs' Comments
UiPath Co-Founder and Co-CEO Rob Enslin commented, "Our Automation Platform changes how organizations operate, innovate and grow, enabling our customers to quickly see a meaningful return on investment." He noted how a US retail chain was able to scale its automation program using Task Mining and software robots to 330 outlets.
Co-founder and Co-CEO Daniel Dines added, "This is where the UiPath AI-powered Business Automation Platform plays a strategic, transformational role for organizations. By combining our leading Robotic Process Automation solution with a full suite of capabilities, UiPath empowers people to more easily and efficiently create better ways to operate, innovate, and drive business outcomes."
Raising the Bar
UiPath issued upside guidance for Q1 fiscal 2024 revenues between $270 million to $272 million versus $269.55 million estimates. The company expects ARR from $1.245 billion to $1.250 billion. UiPath raised fiscal full-year 2024 revenues between $1.253 billion to $1.258 billion versus $1.21 billion consensus estimates. ARR is expected between $1.425 billion to $1.430 billion. Non-GAAP operating income is expected to be around $120 million for the fiscal full-year 2024. It expects YoY Forex headwinds to continue in fiscal Q1 2024. 
Rising Price Channel Breakout
The weekly candlestick chart of PATH shows the impressive breakout through the bearish descending triangle. After peaking at $22.19 in August 2022, PATH shares fell to a low of $10.40 by October 2022. Each bounces peaked at lower highs setting up the falling diagonal trendline of the triangle. While shares couldn't break the swing low and flat bottom horizontal trendline, the lower highs on the bounces extended the falling diagonal trendline. PATH formed a breakout of the descending triangle in Jan 2023 powered by the weekly stochastic mini pup.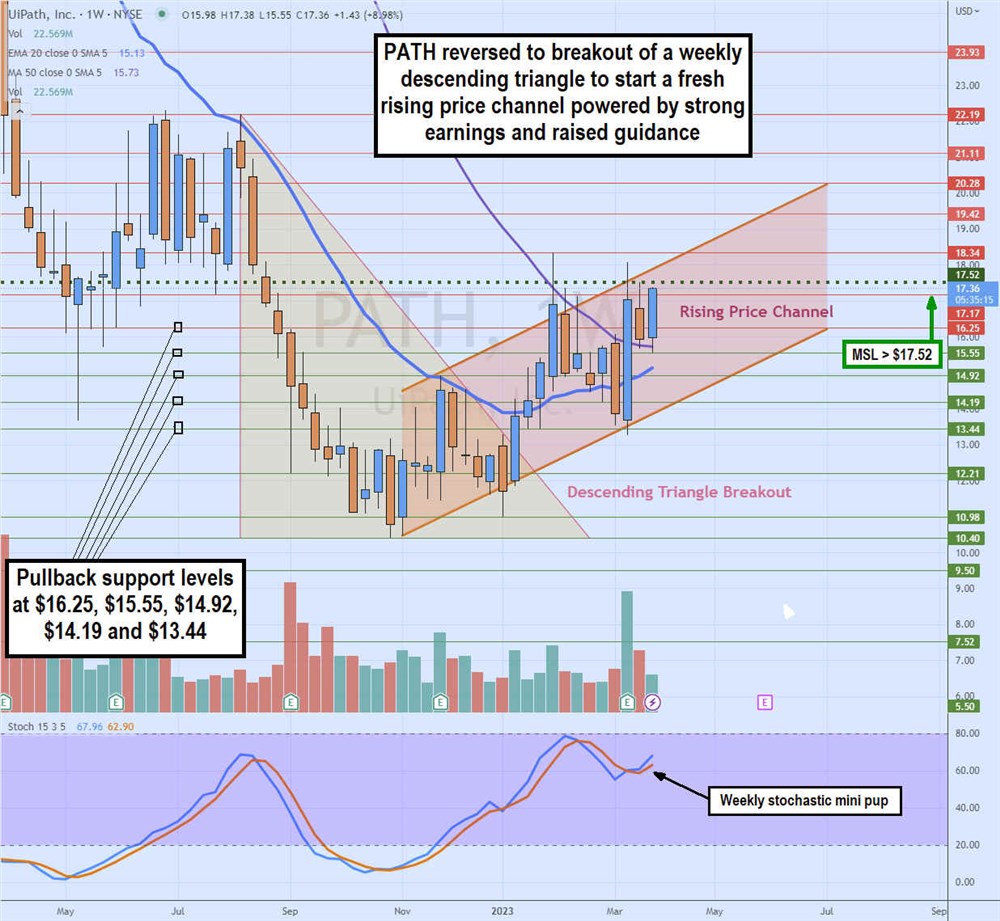 This powered shares to a high of $18.34 before returning to a higher low of $13.44 and bouncing to form a weekly market structure low (MSL) trigger above $17.52. This also formed the weekly rising price channel comprised of higher highs on bounces and higher lows on pullbacks. The weekly stochastic coiled to form a bullish mini pup higher. The weekly 20-period exponential moving average (EMA) rises at $15.19 to crossover the weekly 50-period MA at $15.74. Pullback support levels are at $16.25, $15.55, $14.92, $14.19, and $13.44.