China's services trade has resiliently sustained rapid growth, emerging as a highlight of its high-standard opening-up endeavors. In 2022, the total volume of services imports and exports surged to nearly CNY 6 trillion, marking an impressive 12.9% upswing from the previous year. This substantial leap establishes a new record in scale, retaining its rank of second globally for nine years in a row, as confirmed by the country's Ministry of Commerce. 
Against this backdrop, the China International Fair for Trade in Services 2023 (2023 CIFTIS) is set to unfold from September 2 to 6 in Beijing, China. Themed "Opening up leads development, cooperation delivers the future", CIFTIS serves as a global platform for enterprises to showcase their cutting-edge technologies, expand opening-up, deepen cooperation and guide innovation. A total of 51 countries, 24 international organizations, and over 2,200 entities have confirmed their participation, according to the official release.
NewLink and its subsidiary NaaS Technology Inc. (NASDAQ: NAAS), a leading EV charging service provider, is poised to make its premiere at the summit, are set to showcase their innovative products and digital energy solutions at the exhibition. Highlights will include the automatic charging robot, which was wholly designed in-house to streamline the charging process for the future EV ecosystem, and prototype testing and certification services provided for new energy enterprises aiming to be delivered overseas. To date, the certification network extends to over 500 testing laboratories globally and has been recognized by 22 overseas certification authorities. The company is also set to debut its extensive global footprint and accomplishments in the realm of ESG during the event.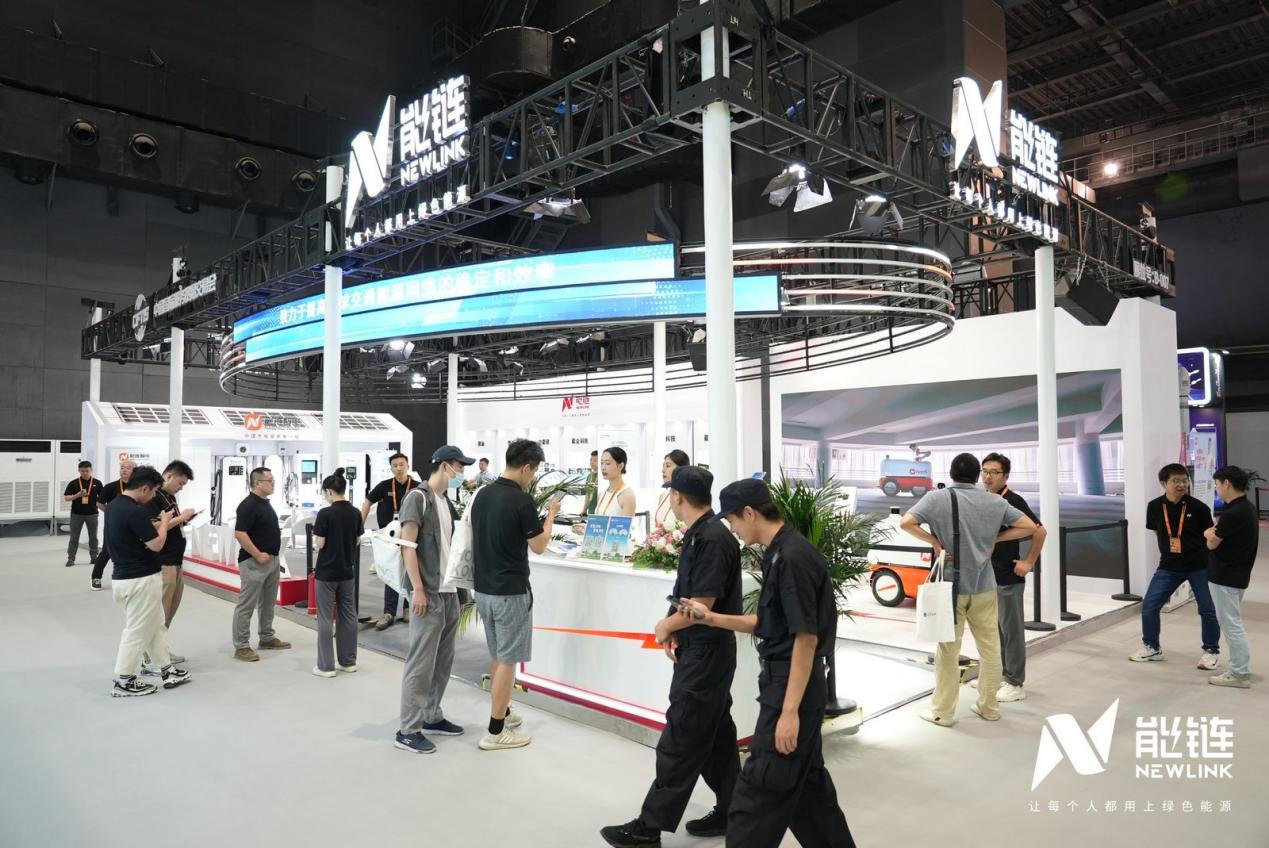 Caption: NewLink at the CIFTIS 2023 
In the process of global services trade, the new energy industry stands as the frontier of globalization - a theme that resonates worldwide. Precedence Research's data highlights that as of 2022, the global renewable energy market size reached USD 103.095 billion and is expected to elevate further to approximately USD 1998.03 billion by 2030.
The huge market potential has attracted heightened attention from an expanding array of global stakeholders, where NaaS seizes this opportunity well and makes prominent proceeds. As of March 31, 2023, NaaS' extensive network has connected over 55,000 charging stations. In the first quarter of 2023, charging volume transacted through NaaS' network reached 1,023 GWh, marking an increase of 112% YoY, while the gross transaction value transacted through NaaS' network showed a leap of 107% YoY.
Drawing upon its success in China's EV charging services market, NaaS has embarked on a global expansion journey. In early June this year, NaaS announced it has entered into a definitive agreement to acquire 89.99% of the issued and outstanding shares of Sinopower HK, the preeminent one-stop solar PV service provider in Hong Kong, to move a step further towards its integrated photovoltaic and energy storage strategy. Previously on August 21st, NaaS unveiled plans to fully acquire the Sweden-born leading EV charging solutions provider Charge Amps for SEK 724 million (USD $66.4 million), a landmark deal positioning the company to make significant strides within the global energy market. 
The company has also successfully inaugurated its European headquarters in the Netherlands — yet another advanced market in terms of green energy — to deliver comprehensive new energy products and pioneering service solutions to local partners. In addition, the company had also established a Southeast Asia office in Singapore, laying out the Middle East markets such as UAE, Oman and Saudi Arabia, further underscoring its global positioning and its resolute commitment to international outreach.
Its active global presence are also well proven by its participation in international dialogue and collaboration. For two consecutive years, NewLink has been invited to take part in the United Nations Climate Change Conference, proposing green and low-carbon innovative solutions on the world stage. In May this year, the Dubai Chamber China Innovation Center was launched in Dubai, and NewLink became one of its first strategic partners and the only Chinese energy digitalization enterprise. Through the partnership, NewLink will share its leading technology and practical experience in energy digitization in the Middle East, as well as explore sustainable development models with other countries and enterprises around the world. 
In the contemporary landscape of energy transition, NewLink has consistently propelled the overarching global agenda towards eco-friendly, low-carbon benchmarks since its inception seven years ago. The company achieved a carbon emission reduction of 2.159 million tons in the whole financial year of 2022, an increase of 108% over 2021.
Leveraging the cutting-edge technologies including big data, the Internet of Things (IoT), and artificial intelligence (AI), the organization has consistently delivered comprehensive intelligent energy services, extending its accrued proficiency from the burgeoning new energy sector in China to a global energy service market, gearing towards improving the stability and efficiency of global transport energy network. 
Media Contact
Company Name: NewLink Group, NaaS Technology Inc.
Contact Person: Hui Meng
Email: Send Email
Country: China
Website: https://enaas.com/