San Antonio Mobile Tire is a Mobile Tire Shop offering Mobile Tire Repair, Mobile Tire Installations, and Mobile Tire Balancing at your home or office.
(PRUnderground) October 1st, 2020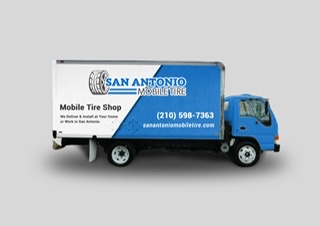 Paul Brown opened his small business a year ago, offering at-home tire services like mobile flat tire repair, rotate and balance new tire installments, and roadside emergency tire services.  He has since expanded his mobile tire service business from San Antonio to Austin, Texas.  Future locations in Houston, Dallas, and Ft. Worth area are to open next year.
He says the benefit to the community is that there's no interaction between him and the customers, so his team can keep their distance, helping to keep everyone safe in this pandemic.  The San Antonio Mobile Tire team services 20-30 automobiles a day, allowing customers to avoid a tire shop visit.
San Antonio Mobile Tire employs ASE certified technicians with years of experience in repairing, installing, and balancing tires.  They want customers to enjoy the mobile tire shop experience while staying safe.
"People do not want to risk getting sick over a visit to the tire shop," said Brown. "We're still trying to take care of their needs as well, especially for the elderly folks that can't get out or are more of higher risk. We're going to them and take care of their tire needs from home."
Brown says the best way to reach out or make an appointment is by visiting their website at https://www.SANANTONIOMOBILETIRE.com
About San Antonio Mobile Tire Service
San Antonio Mobile Tire Service is a mobile tire shop in San Antonio, Texas. San Antonio Mobile Tire is coming to you for a change! Short on time? Who isn\\\\'t? Get time back with San Antonio Mobile Tire! We have figured out how to bring the tire shop to you. We will come to you at your home, office, or just about anywhere! Our contact-free mobile service allows order tires online through our website, schedule your appointment, and pay online. Already have tires? We can install them for you too! We can accommodate all different type of wheel and tire combinations. All of our drivers receive a full background check and are fully listened and insured. Start spending your time doing the things you love and let us handle changing your tires. You\\\\'ll be ready to roll on down the road. We are committed to your safety. Get San Antonio Mobile Tire in your driveway today.
San Antonio Mobile Tire services car tires, pickup truck tires, SUV tires, sports car tires, trailer tires, camper trailer tires, RV tires, motor home tires, box truck tires, Isuzu truck tires, Mitsubishi truck tires, tow truck tires, semi-truck tires, 19.5 tires, 22.5 tires, and so much more.
San Antonio Mobile Tire provides mobile tire service in San Antonio, Boerne, Helotes, Leon Valley, New Braunfels, San Marcos, Buda, and Austin. If you are searching for at-home tire service or mobile tire services this is your one stop shop.
The post San Antonio Mobile Tire Service Offer Mobile Tire Repair Services first appeared on PRUnderground.
Press Contact
Name: Paul

Phone: 2105987363

Email: Contact Us

Website: https://www.sanantoniomobiletire.com
Original Press Release.