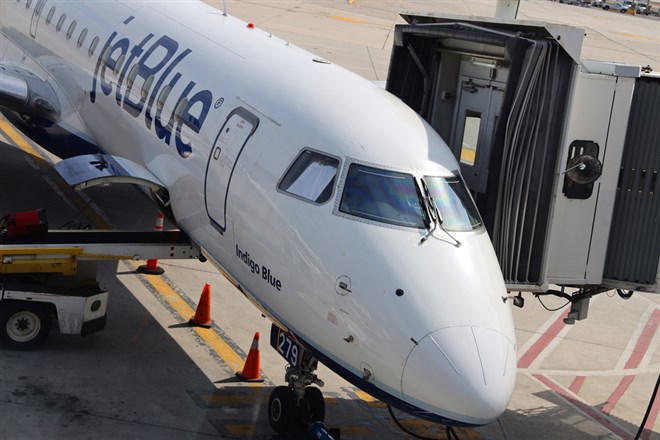 The Department of Justice is suing to stop the proposed merger between JetBlue Airways (NASDAQ: JBLU) and Spirit Airlines (NYSE: SAVE) on antitrust grounds. A judge who is known for rapidly pushing cases to trial is already assigned to the case.
The DOJ argues that the merger is bad for consumers. The Department contends the merger will push up flight prices nationwide and reduce competition in the already concentrated airline industry. 
This concern stems from JetBlue's intention to "tuck in" Spirit to JetBlue's operations. Spirit will essentially cease to exist following the merger, with its fleet, routes and employees becoming part of the JetBlue brand.
However, both JetBlue and Spirit are fighting back against the deal on the grounds that the merger will actually increase competition, as the combined company can aggressively compete with major airlines like American Airlines, Delta Airlines, and United Airlines. 
JetBlue CEO Robin Hayes said, "We believe the DOJ has got it wrong on the law here and misses the point that this merger will create a national low-fare, high-quality competitor to the Big Four carriers which – thanks to their own DOJ-approved mergers – control about 80% of the U.S. market" in the companies' joint press release.
A new judge was assigned to the case on Wednesday, US District Judge William Young, who has a reputation for quickly moving cases to trial. Young is a Reagen-Era Republican, and while he isn't known for exhibiting a partisan bias in his cases, Young was far from the DOJ's first choice. The Department was arguing that US District Judge Lee Sorokin should hear the case, as Sorokin is currently overseeing a different JetBlue antitrust case.
Investors are interpreting the news of Judge Young's selection positively for the deal's prospects. Spirit Airlines stock rose 4.5% in Wednesday's trading, while JetBlue fell 1.2%.
Details of the Deal
It's been over a year since Spirit first became a public target of airlines. Fellow ultra-low-cost carrier Frontier Group (NASDAQ: ULCC) attempted to merge with the company in February 2022, only to have JetBlue outbid them two months later.
By July 2022, JetBlue and Spirit reached a deal that values Spirit at $3.8 billion, or $31 per share plus $2.50 in what are essentially dividends for waiting around for the merger to complete. The deal represented a 29% premium to Spirit's closing price the previous day, July 27, 2022.
If the deal goes through, Spirit Airlines would cease to operate, and all of the company's assets would be tucked in to JetBlue's business. Ultra-low-cost carriers like Spirit have been a thorn in JetBlue's side for a while, putting additional pricing pressure on low-cost carriers like JetBlue and Southwest Airlines.
A successful outcome for JetBlue would give it 9% market share among airlines, making it the world's fifth-largest airline. JetBlue would still be well behind the legacy carriers it's trying to put pressure on. 
JetBlue's been hungry for M&A opportunities ever since it got outbid for Virgin America by Alaska Airlines in 2016, which was also the last time any significant airline M&A activity occurred.
Here are the key statistics to know about this deal:
Deal Price: $33.50
Current Target Price: $17.90
Deal Spread: $15.60 or 46%
Breakup Fee: $400 million
Deal Announcement Date: April 5, 2022
Estimated Completion Date: the first half of 2024
There's an interesting bit of game theory at play between these two companies. Many airline analysts would agree that ultra low-cost carriers have an embedded call option due to their propensity to get bought out. 
Much like a marketplace business like Uber (NYSE: UBER), ultra-low-cost carriers try to steal market share, often by growing unprofitably at an unsustainable rate over the long run. This puts pressure on carriers like JetBlue, and oftentimes they succumb to the pressure and buy them out.
Antitrust Cases For Mergers Are The Norm Now
Antitrust reviews in M&A deals should be no surprise for investors following the space, as the Biden Administration is using antitrust inquiries as a primary method to fight big business interests. Antitrust reviews hit an all-time high in 2021, representing a 115-year-over-year increase, according to Legal Dive.
Traders should be aware of the heightened risk, both in the US and in Europe, that M&A deals currently face. The downside risk is especially exposed before the HSR waiting period expires.
Bottom Line
Shareholders of Spirit Airlines hoping to play the merger arbitrage have a long road ahead of them. With an antitrust battle ahead, the deal isn't slated to close until the first half of 2024. The more aggressive antitrust stance from the DOJ adds additional uncertainty.