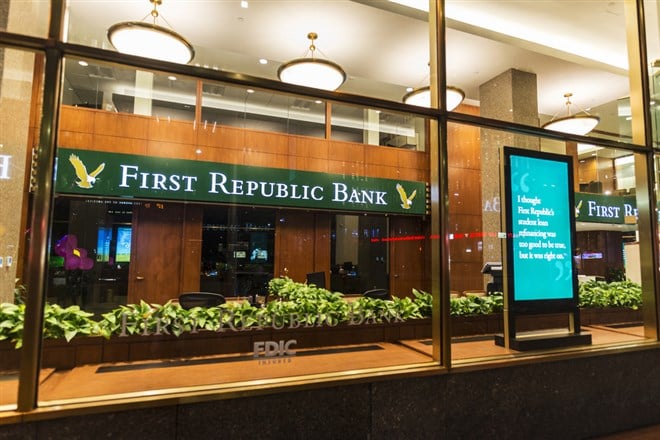 First Republic Bank (NYSE: FRC) may be a fine investment, but it has been nothing but headaches for investors lately, and the tough times are not over. The latest news is a new capital raise led by JPMorgan Chase & Co. (NYSE: JPM) CEO Jamie Dimon. Dimon is reportedly working on assembling a consortium of large banks to help further stabilize First Republic Bank. The first take on the news is that First Republic Bank is still unstable, which raises the question of how widely spread this contagion may be and how much more help this bank need. 
As it is, the 11 banks aiding FRC have now deposited $30 billion into accounts. The question is how to provide additional aid, as FRC depositors have withdrawn more than $70 billion since the crisis began. According to the WSJ, one idea is to turn a portion or all of the $30 billion into a capital infusion which amounts to a buyout of the operation. 
First Republic Outlook Sours Despite Aid 
S&P (NYSE: SPGI) said it "does not view this deposit infusion as a longer-term solution to the bank's funding issues. In addition, we think attracting meaningful deposits will be difficult, constraining the bank's business position," when it cuts its credit ratings for the 2nd time a week. The new cut has its long-term issuer status at B+ from BB+ and well into junk territory. Likewise, Moody's and Fitch cut their rating to junk/near-junk status with a negative outlook that suggests more cuts could be on the way. The takeaway is that near-term risk prevails for this company, and more downside is likely for shareholders. 
The analysts are still holding the stock despite the concern. There have been several downgrades since the crisis began but not to the extreme. The downgrades are, for the most part, from Buy or Outperform to Neutral or Hold with relatively small price target reductions. The Marketbeat.com consensus price target is down compared to last year but is surprisingly flat in the face of negative news. As it is, the consensus target is near the $140 level and the pre-crisis high, which is about 775% above the current price action. 
Marketbeat.com's tracking tools have picked up no institutional activity since the bank run began, which may be telling. The institutions held about 95% of the stock and bought heavily before the crisis. One reason may be the dividend, but that was cut to preserve capital during the crisis. If the institutions start selling shares now, it could keep this market moving lower, and shares are already trading at all-time low levels. 
Regional Banks Rebound 
Regional banks like U.S. Bancorp (NYSE: USB) and Fifth Third Bancorp (NYSE: FITB) are moving higher, opposite of FRC. Analysts' support primarily drives the move because they are sticking to their ratings on these names for now. Fifth Third is rated a Buy with about 50% upside, while U.S. Bancorp is rated a slightly weaker Buy with a price target about 55% above the price action. These banks are paying substantial dividend yields at their newly lowered valuations and appear safe now. 
The chart of First Republic Bank is not promising. While other regional banks are showing the first glimmers of the bottom, FRC shares are gaining bearish momentum. In this light, a move to new lows should be expected.