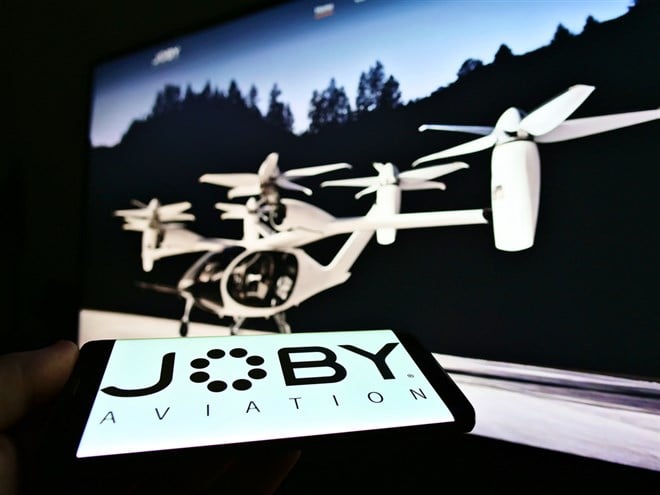 Joby Aviation (NASDAQ: JOBY) reached a major milestone in early February that has the stock ready to take off. The company completed the 2nd of 5 steps toward FAA certification for commercial operations. This marks the 1st company to reach this milestone and has it set up to meet its goal of commercial operation in 2025.
Reaching the milestone allows the company to begin the final assembly of its EVTOL aircraft in preparation for flight testing later this year. To date, that company has achieved significant in that it designed an aircraft and assembly process that meets FAA company-conforming requirements, which was the most significant hurdle to cross. 
Joby followed this news with plans to test its propellers at the National Full-Scale Aerodynamic Complex (NFAC), the world's largest wind tunnel facility, at NASA's Ames Research Center in California's Silicon Valley. This facility allows for the testing of aerodynamic components in all conditions; results from tests at this facility are considered the very best and have been used in developing projects like the space shuttle and V-12 Osprey, among many others.
Joby will be able to test its propeller in all phases of the flight cycle to gather data on functionality and sound. Sound control is a key feature of Joby's aircraft operations and makes it suitable for the types of shuttle traffic it aims to capture. 
Joby Aviation Appears To Be Well-Capitalized 
Joby Aviation released its Q4 results and produced a loss as expected, but it was not as bad as forecast. The company's operational expenses were mitigated by a small amount of revenue related to the DOD contracts the company has acquired. The report's takeaways are that cash reserves remain healthy at $1.1 billion, and operations plans for 2023 are well within that budget.
The company plans to increase spending as it enters and ramps production on materials and employees. Spending plans come in at $360 to $380 million, leaving ample room on the balance sheet for unforeseen events. 
"In 2023, our primary focus will remain on certification, manufacturing and our support for Department of Defense contract obligations. We will continue to grow our team as required, reflecting certification efforts and manufacturing. Building more aircraft and test articles also will require increased spending on material. Overall capital expenditure is expected to be below 2022, primarily reflecting the non-recurrence of acquiring our Santa Cruz facility. Total 2023 net cash used in operating activities and purchases of property and equipment is expected to range from $360 to $380 million," said Joby Aviation in the Q4 press release. 
Archer Aviation Is In The Wings 
Joby Aviation is not the only EVTOL aircraft in the making. Archer Aviation (NYSE: ACHR) is just a step, maybe a half-step behind in the certification process and has 2 projects in the works. Its major investors include United Airlines and Stellantis, which want to aid the advancement of company technology and, in the case of United Airlines, use it for inner-city shuttling of passengers to and from airport terminals.
The Technical Outlook: The Bottom For Joby Aviation?
The price action in Joby Aviation has not been bullish over the last year, but those times are over. The stock is showing signs of a bottom in tandem with positive developments that could keep it moving sideways this year. Investors should accept that commercial operations are still far off, so there is little reason to expect a significant rally. The stock will likely move sideways within a potentially large range and offer numerous opportunities to buy in and manage positions.