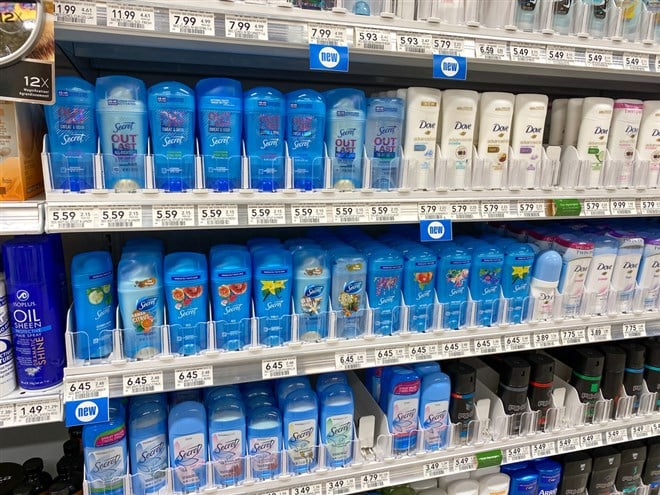 The Procter & Gamble Co (NYSE: PG) stock price is down 6.06% year to date and more at a 10.87% loss for the past year. This in turn, has pushed its price-earnings (P/E) ratio to 24.73 amid the company outperforming the market throughout 2021.
Many institutions seem to favor P&G's fundamentals, including Ray Dalio's Bridgewater Associates, which currently has a long position in the company worth over $1 billion. Putting this holding into perspective is that it represents around 4% of Bridgewater's portfolio and is one of its largest holdings.
Institutions hold around 65.1% of P&G's shares, with Vanguard Group and BlackRock also holding significant positions. Curiously, insider ownership at the company stands at just 0.04%, while the general public owns 34.5% of its shares.
3,857 positions by both institutions and mutual funds own 1,533,264,186 shares.
So if big and smart money seems bullish on P&G's stock, what does that mean for retail investors? Let's investigate some aspects to see if we can piece together the story.
P&G's valuation and dividend
First, there's the fact that P&G is trading at levels that could be considered fairly valued per the MarketBeat consensus price target. It currently shows a 7.5% upside, while Wall Street believes it's a moderate buy.
The better news for investors is that its earnings per share (EPS) is poised to grow substantially in the coming year, notably from $5.84 to $6.27. This would put it at a 7.36% gain.
But one of the stock's most impressive factors is that it holds the title of both a dividend king and a dividend aristocrat. The company has paid dividends for 132 years and increased its dividend for 66 consecutive years.
This means that investors can feel confident that this trend of the company paying and growing its dividend every year will continue into the future.
Compounding one's yearly return is essential in the dividend investing process. Thus blue-chip and stable companies like P&G may afford investors a stable ground floor to compound and grow their wealth for decades to come, provided that the dividends are reinvested into buying more shares.
P&G's technicals
Things were going well for the company when it announced its earnings ending in September last year. That kicked off a massive rally, with its share price increasing from $129.56 to $152.24. A false signal was generated on Jan 4 with the moving average crossover. Bulls following this signal would later be faked out, coinciding with its earnings for Q4 being published to the market.
As it stands, the average daily momentum shows weakness, with the RSI showing a clear path toward the bottom. Some reassuring signs of consolidation can be seen in rising volume, as shown on the CMF as well as short-term momentum returning to the upside
More bars are needed to confirm possible dynamic areas of support or resistance, but a reversion back toward its mean price should be expected in the short term.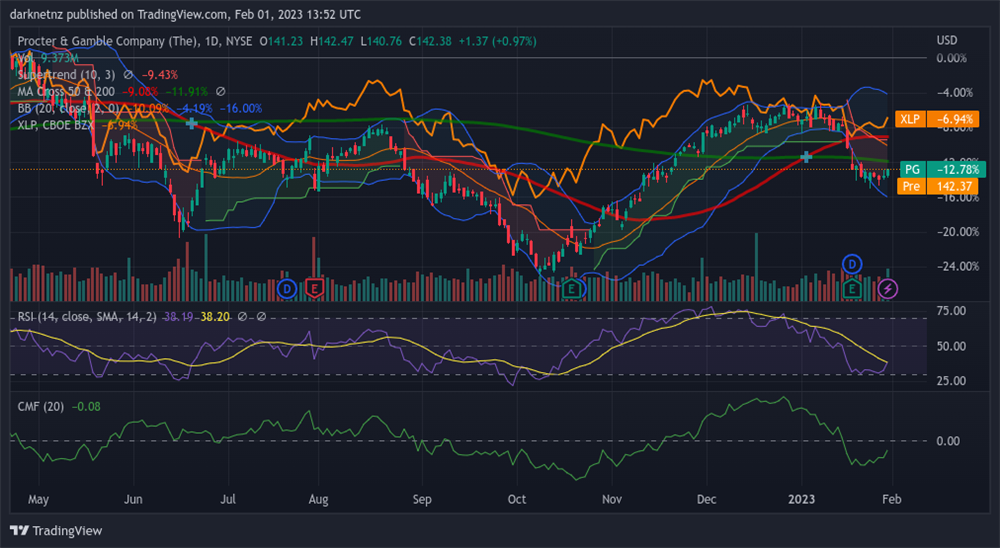 A defensive hedge
P&G provides essential products for everyday life, thus making it a possible hedge against a downward correction in economic activity. 
However, Wall Street forecasts 1% and 5% declines in fiscal Q2 revenue and earnings, respectively. And analysts anticipate they improved bottom-line results in the year's second half, with Q3 and Q4 profits expected to be up 2% and 8%.
These factors could therefore make P&G a good pick if one has a short-term bearish view of the economy.
Some of P&Gs defensive pros come from the fact that it has a diversified product portfolio. P&G operates in various categories, including personal care, health, beauty, and household care. This diversification helps to minimize the risk associated with operating in a single industry or category, as the company can rely on strong performance in one area to offset any weakness in another.
Another is the reach of the company. P&G has a presence in over 180 countries, which helps to mitigate the risk associated with operating in a single region or market. The company's global reach also provides access to a large and diverse customer base, which helps to ensure steady revenue and earnings growth.