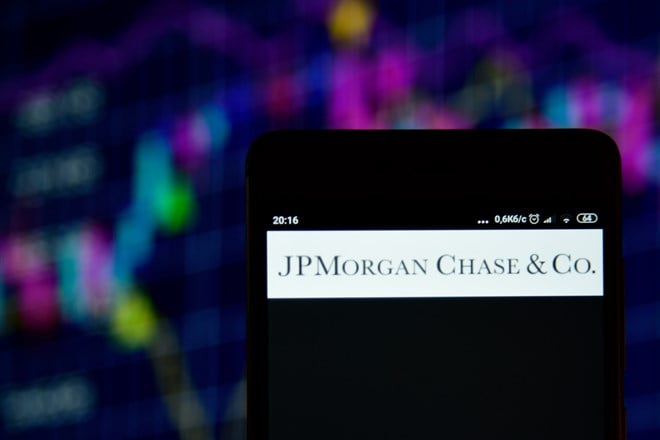 Shares of JPMorgan Chase (NYSE: JPM) are moving lower after its report echoed news from across the banking sector. Institutions from Bank of America (NYSE: BAC) to Citigroup (NYSE: C) and Wells Fargo (NYSE: WFC) reported solid quarters that include the first signs of the economic storm Jamie Dimon forecasted last year.
Those glimmers include an increase in credit losses and increases in capital reserves that have outpaced the consensus targets and left the outlook for 2023 earnings in jeopardy. The takeaway for banking investors is that JPMorgan Chase remains the best-positioned financial institution in America and is in a position to pay its dividend and resume its share repurchases. 
"This robust earnings generation combined with the execution of our capital strategy allowed us to exceed our CET1 target of 13% one quarter early, and we can resume stock buybacks this quarter, as we deem appropriate," said chairman and CEO Jamie Dimon in the earnings release. 
JPMorgan Exhibits Strength, Prepares For Recession 
JPMorgan Chase & Co (NYSE: JPM) had a strong quarter beating on the top and bottom lines. The company generated $34.5 billion in revenue for a gain of 17.9% over last year and beat the consensus by more than a quarter billion dollars. The strength was driven by Consumer & Community Banking and Commercial Banking, which grew by double-digits.
The strength was offset by a tepid 1% increase in Asset & Wealth Management and a -9% decline in Corporate & Investment Banking. Regarding total loans and deposits, loans are up 0.03 trillion while deposits are down $0.07, a slight change in the balance but not for the better. 
Earnings were also strong despite the increase in credit reserves. The company reported $3.56 in adjusted EPS, which is $0.46 better than expected and up from last year's $3.03. The bad news is that credit losses increased and credit reserves increased by nearly 50%, and similar increases should be expected in the next report.
As for guidance, JPMorgan Chase expects revenue and earnings to be weak relative to the analyst consensus figures, and it may be optimistic. 
"The U.S. economy remains strong with consumers still spending excess cash and healthy businesses. However, we still do not know the ultimate effect of the headwinds coming from geopolitical tensions, including the war in Ukraine, the vulnerable state of energy and food supplies, persistent inflation that is eroding purchasing power and has pushed interest rates higher, and the unprecedented quantitative tightening. We remain vigilant and are prepared for whatever happens so that we can serve our customers, clients and communities worldwide across a broad range of economic environments," continued Mr. Dimon. 
Other Banks Did Not Fare So Well … 
The first look at reports from banks like Citigroup, Bank of America and Wells Fargo is that they did not fare so well. While Citigroup and Bank of America beat on the top and bottom lines, they did not show the same strength as JPMorgan. Wells Fargo's results were mixed, with top-line results falling short and credit losses and capital reserves exceeding consensus. 
The Technical Outlook: JPMorgan Lags The Group 
Surprisingly, shares of JPMorgan have been lagging behind the financial sector (NYSEARCA: XLF) and the broad market since the pandemic rebound began. In this light, the shares may soon become a sector leader, although the sector itself may come under pressure. Regardless, the best-case scenario for all 3 now that the results are in is for downward movement within a trading range and for support to confirm at or above the October 2022 lows.