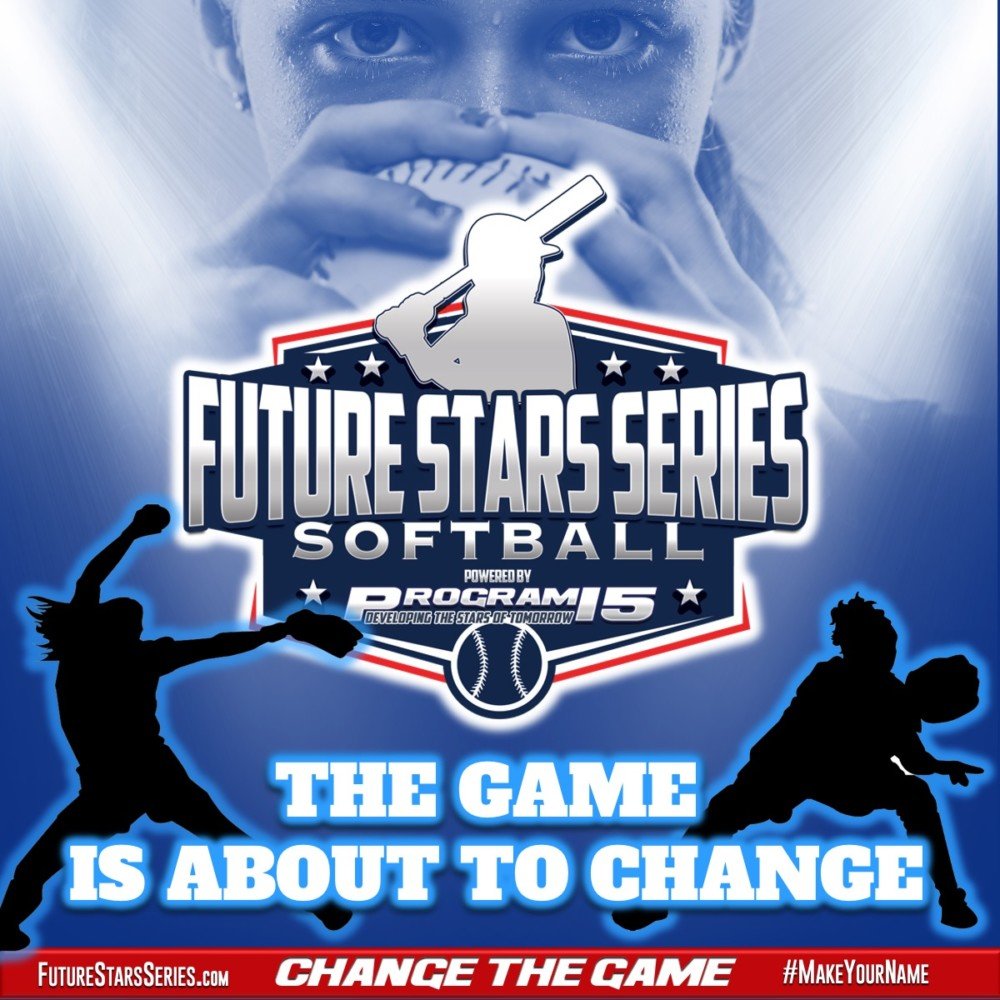 The Future Stars Series, which began in the fall of 2016 as a grassroots initiative to provide amateur baseball players across all economic levels an opportunity to reach their full potential through the training, development, and guidance of former MLB players, scouts, and coaches – has since emerged as the gold standard for player identification and development events in the amateur baseball world.
Due to incredible public demand for several years, PROGRAM 15 Sports announces the launch of Future Stars Series Softball.
As the Official Global Grassroots Player Identification and Development Program for New Balance Baseball, PROGRAM 15 has been responsible for executing all Future Stars Series events since its inception. Led by President and CEO Jeremy Booth and backed by a staff with decades of Pro Baseball scouting experience, The Future Stars Series has earned a reputation as the most comprehensive amateur baseball player identification and development experience available.
FSS Softball model will mirror the baseball model of individual player selection and promotion, which will lead to a 3-Day Signature Event. Player identification and development events will be scheduled throughout North American regions, including Canada.
Future Stars Series Regional Combine Locations
Los Angeles, CA
Fresno, CA
Houston, TX
Dallas, TX
Las Vegas, NV
Chicago, IL
Akron, OH
Indianapolis, IN
Orlando, FL
Mobile, AL
Philadelphia, PA
Raleigh, NC
Nashville, TN
Oklahoma City, OK
Toronto, ON
Portland, OR
*Dates and exact locations to be released in the coming weeks
Selected players will work with the Future Stars Series Foundation and enhance their brand directly through Future Stars Series Digital. The new series is also expected to work with NCSA for expanded player exposure.
According to Booth, interviews have begun for field development and evaluation staff as well as internal operations leadership.
"We've been asked for a while, and I've always been a big believer in the timing of things. This is the right time as we take the P15 Sports/FSS model to help and impact the legions of softball players out there grinding every day to achieve their true potential. The pathways into MLB careers have never been more open, and we're here to help through education, promotion, and most importantly, holistic player growth," Booth said about the new series.
The rising demand for the organization to step into the softball space is no surprise given the incredible milestones achieved by PROGRAM 15 and the Future Stars Series over the past six years, such as:
Implementing the PROGRAM 15 model of evaluation and role prediction.
Developing International, amateur scouting, and player development departments.
Growing The Future Stars Series footprint to cover 13 countries, impacting over 15,000 athletes throughout the world.
Spotlighting over 100 MLB Draft Picks and International Signings along with hundreds of college-committed players who have participated in Future Stars Series events.
The creation and expansion of major Future Stars Series annual events, including the Underclass Elite, Underclass Premier, Fresh 50, World and National Pro Combines, Caribbean Classic, as well as the FSS Main Event, which has been hosted three times at Fenway Park, home of the Boston Red Sox and Citifield, home of the New York Mets.
To learn more about Future Stars Series, visit https://FutureStarsSeries.com
ABOUT FUTURE STARS SERIES:
FUTURE STARS SERIES boasts a faculty and staff that includes multiple Major League All-Stars and World Series veterans responsible for executing the New Balance Baseball Future Stars Series, an initiative between the two organizations to elevate the game of baseball by providing amateur players across all economic levels an opportunity to reach their full potential through the training, development, and guidance of former MLB players, scouts, and coaches.
For more information on the Future Stars Series, visit FutureStarsSeries.com.
Follow @ftrstarsseries on Twitter.