Will Wage Growth Push Copper Prices Higher?
July 07, 2021 at 10:51 AM EDT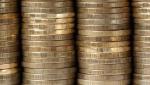 The forces of supply and demand continue to weigh in on copper prices, but strong wage growth could be the catalyst that helps push the Global X Copper Miners ETF (COPX) higher. "U.S. job growth accelerated in June as companies, desperate to boost production and services amid booming demand,...