Can Variable Dividends Start to Permeate the Energy ETF Space?
February 26, 2021 at 11:30 AM EST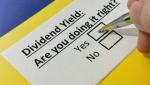 One of the primary reasons investors embrace master limited partnerships (MLPs) and ETFs like the ALPS Alerian MLP ETF (NYSEArca: AMLP) is income. That thesis was challenged last year as the energy was one of the epicenters of negative dividend action. Now, some energy companies are mulling...