Will Vaccines Cut Loose Leisure and Entertainment Spending in 2021?
February 25, 2021 at 12:56 PM EST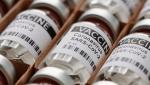 As a global vaccine rollout continues, the leisure and entertainment industry should continue its healing process. ETFs like the Invesco Dynamic Leisure and Entertainment ETF (PEJ), could present investors with a value-added option in turn. PEJ is based on the Dynamic Leisure & Entertainment...