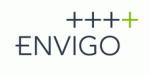 EAST MILLSTONE, NJ -- (Marketwired) -- 11/28/17 -- Envigo, a leading provider of nonclinical contract research services and research models, today announced the appointment of Paul Surdez to the new role of Vice President of Corporate Affairs and Investor Relations. Mr. Surdez has extensive knowledge of the healthcare services sector, the global investment community, and investor relations best practices having worked in the contract research organization (CRO) and laboratory industries for over 20 years in leadership roles in investor relations and corporate communications. This appointment is a result of Envigo's definitive merger agreement with Avista Healthcare Public Acquisition Corp. (NASDAQ: AHPA) ("AHPAC"), a special purpose acquisition company, which envisions Envigo becoming a publicly traded company. The transaction is expected to close in the first quarter of 2018.
"Paul is bringing highly-valued expertise in investor relations and strategic communications to Envigo as we continue our journey to become a public company and beyond," commented Dr. Adrian Hardy, Chief Executive Officer. "Paul is well-known and respected across the investment community, and I am delighted that he has chosen to join our team at this exciting time for the company. Our transaction with AHPAC will further raise Envigo's profile with our biopharmaceutical clients and allow us to attract more talent to our growing company, while providing us with greater resources to increase our competitiveness in the dynamic markets that we serve, and I look forward to working with Paul as we share our attractive story with the investment community."
On his appointment, Mr. Surdez commented: "Joining the team at Envigo is an amazing opportunity to contribute to the company as it embarks on the next stage of its growth strategy and its transition to a publicly-traded company. I look forward to working with the team to support the exciting journey that is ahead by providing practical counsel and support on a range of investor relations and corporate communications programs."
Prior to joining Envigo, Mr. Surdez led the investor relations programs for publicly-listed Laboratory Corporation of America (LabCorp) and Covance, where he was frequently honored as a leading investor relations professional in surveys conducted by Institutional Investor Magazine and IR Magazine. He holds a Master of Business Administration in Finance and a Bachelor of Science in Marketing, both from Rutgers University, and the Investor Relations Charter (IRC) credential.
About Envigo
Envigo provides mission-critical products and research services for pharmaceutical, crop protection, and chemical companies as well as universities, governments, and other research organizations. The Company is founded on the principle that research partnerships depend on unmatched expertise, unwavering dedication to customer service, and shared goals. Envigo is committed to helping customers realize the full potential of their products and research which contribute to enhancing the lives of people and animals as well as protecting the environment. With over 3,300 employees worldwide, Envigo provides comprehensive scientific expertise and a full service offering in non-clinical research and development, research models and services, regulatory consulting, and analytical support to customers. Envigo's corporate headquarters are located in New Jersey.
(www.envigo.com)